Connected Store Experiences
Digitally Enabled Retail
How digital in-store experiences can drive value for your business and your customers.
Imagining the Retail Store of the Future
Scroll down and click the circles to experience what's possible.
Scroll down to find out.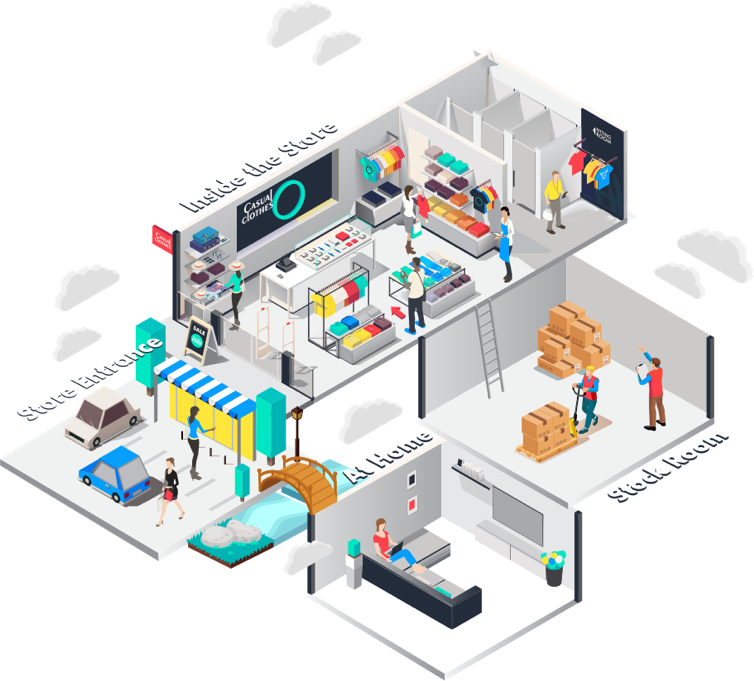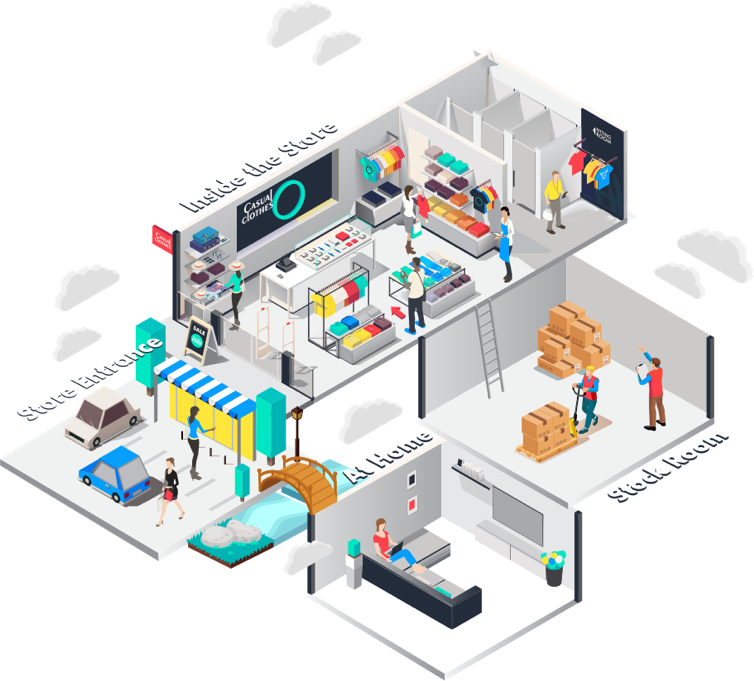 At Home
Online planning
Customers can choose how and when they get their purchases (BOPIS, curbside pickup, in-store shopping, home delivery, and more) or reserve personalized store experience time in advance, with up-to-the-minute inventory data.
Virtual Metaverse Store
Avatars can create, try -on and purchase virtual NFT products in the metaverse with cryptocurrency. Digital purchases provide customer behavioral data to inform future physical product lines.
Store Entrance
Traffic Management
Simple technology can automate limits on the number and proximity of in-store shoppers to protect the health of customers and employees.
Mobile Web and App
By seamlessly integrating everything from look and feel to inventory data across web, mobile and storefront, retailers can digitally expand their physical footprint and even draw in passersby with great offers.
Stock Room
Back of Store
AI-powered robotics leads fulfillment and restocking through inventory modernization capabilities, putting the right amount of product on shelves and the latest information in associates' hands. The backroom takes up more than ⅓ of the store footprint.
Inside the Store
Wayfinding tools
The store floor contains a minimal display where customers use interactive digital tools to locate or procure specific sizes or colors. These same location-based services can draw customers in with relevant pop-up marketing messages.
Point of Sale
The retail experience is contactless, but store associates can use customer data to close sales, pull up repair info, offer cross-sells, upsells, subscriptions, loyalty clubs, and more. Customers can purchase products using cryptocurrency, such as Bitcoin or Ethereum.
Meaningful Experiences
With e-commerce encompassing 90% of retail sales, the physical stores exists for traditional try-ons, product demos, personalized assistance, and social experiences. A concierge helps process seamless in-store returns.
The Digital Shelf
Product reviews, related products and other valuable content such as CO2 emissions and supplier information help customers make decisions, while dynamic pricing is displayed at all times through augmented reality, giving customers a consistent experience from online to in-store.
Optimized Product Recommendations
Audio and digital screens inform customers about their favorite brands using AI algorithms to optimize product recommendations, and marketers can purchase in-store advertising programmatically through self-serve retail media networks.
Product Selection
Algorithmic retailing ensures customers can access the right inventory in the right store at the right time, based on not only first-party sales and browsing data, but also social views, regional trends, weather and more. This "dataful" approach also enables retailers to surface the USPs a given customer or region cares about most — both in-store and online.
Retail Journey Reinvention
Our auditing framework can identify the biggest opportunities for growth in your physical-digital retail ecosystem.