Connected Store Experiences
Digitally Enabled Retail
How digital in-store experiences can drive value for your business and your customers.
Imagining the Grocery Store of the Future
Scroll down and click the circles to experience what's possible.
Scroll down to find out.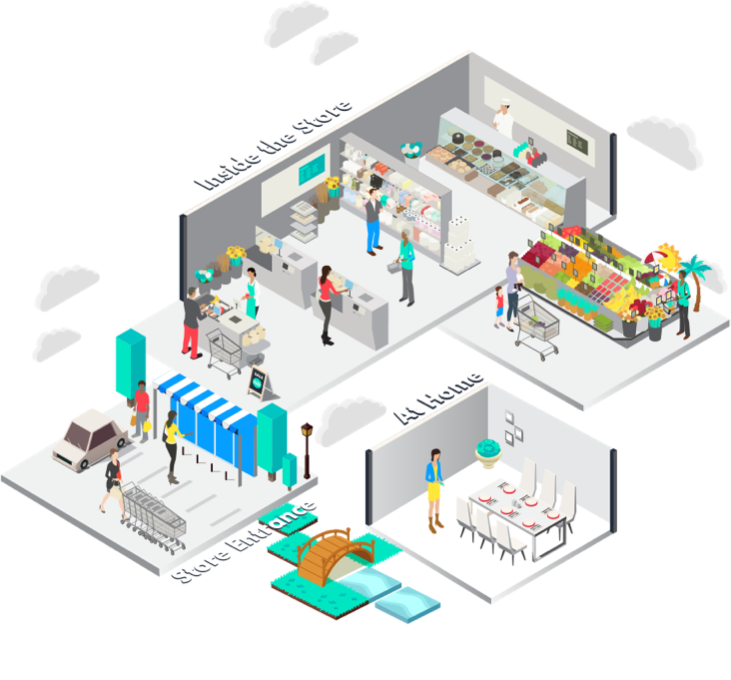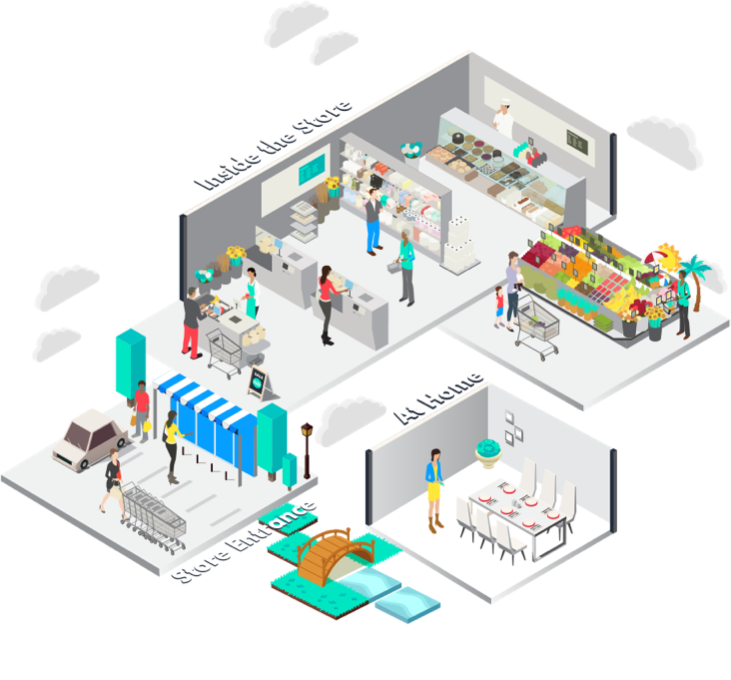 Inside the Store
Optimized Product Recommendations
Audio and digital screens inform customers about their favorite brands using AI algorithms to optimize product recommendations, and marketers can purchase in-store advertising programmatically through self-serve retail media networks.
The Digital Shelf
Grocers can automatically monitor out-of-stocks and better manage inventory on the shelf, preventing personnel from needing to constantly replenish items. And dynamic pricing makes it easy to update prices and other info across online and brick-and-mortar locations based on offers, inventory, even individual customer.
Frictionless Checkout
Using cameras, RFID and more, grocery stores may soon eliminate in-person checkout altogether. Our Fast Lane app for Walmart integrates this feature into the existing store app. Some grocers are considering a hybrid approach (such as allowing customers to self-select produce but pickup pre-bagged non-perishables) and re-organizing the store layout accordingly.
Connected Data
It's not just about the right products in the right store at the right time - based on sales history, social views, regional trends, season, holiday and more. It's also how customers know they can find what they need, with the most compelling offers.
Stock Room
Micro Fulfillment Center
A separate, automated dark store fulfills e-commerce orders for same-day grocery delivery without the need for manual picking. This allows more space in regular store aisles for grocery shoppers.
At Home
Mobile Web and App
By seamlessly integrating everything from look and feel to inventory and location data across web, mobile and storefront, grocery and big-box stores can digitally expand their physical footprint, save time wasted on price matches and paper coupons, and expand their pickup and delivery business.
Store Entrance
Traffic Management
Online and in-app, ease of engagement draws customers to choose how and when to get their purchases, with up-to-the-minute store hours, offers and inventory data, along with options for "BOPIS," curbside pickup, in-store shopping, home delivery and more.
Curbside Pickup
Completely contactless checkout is one level of service beyond click 'n' collect. Stores must provide a mechanism for letting customers know their order is ready and finding them when they arrive. And though there are challenges with staffing this capability, the efficiencies provide clear ROI.
Click 'n' Collect
By integrating up-to-the-minute inventory data with the website and app, stores can maintain loyalty and gain new customers looking for popular products. The trick is applying intelligent e-commerce tools that optimize the experience by learning shopping habits, dietary preferences and more, then serve complementary offers that replace "impulse buy" revenue.
Retail Journey Reinvention
Our auditing framework can identify the biggest opportunities for growth in your physical-digital retail ecosystem.