What Happens When Hunger Strikes?
With more ways to buy our favorite snacks, how people satisfy their cravings is changing. So, in 2020, we surveyed 500 Millennial and Gen Z buyers to figure out what drives impulse food and beverage purchases, how they engage with brands and where they go to find new products that inspire them. Here's what we found.
Right now, the food and beverage category is a smaller slice of the online pie, accounting for only 14 percent of total impulse purchases. Average basket cost also tends to be lower, with 76 percent of purchases at $50 or less and 30 percent under $10.
According to our research, Gen Z and Millennials prefer to shop budget friendly. Instead of buying lunch during work or school, some opt to reach into their pantry and grab a snack or drink they can eat while taking a break with their favorite podcast or YouTube show.

Gen Z and Millennial buyers are all about sharing a meal. When compared to other digital buyers, food and beverage shoppers are 16 percent more likely to buy items for people other than themselves. Purchases are also driven by familiarity – more than 70 percent of buyers say they buy items from brands they've purchased from before, and 75 percent have an account with the channel they regularly choose to buy from.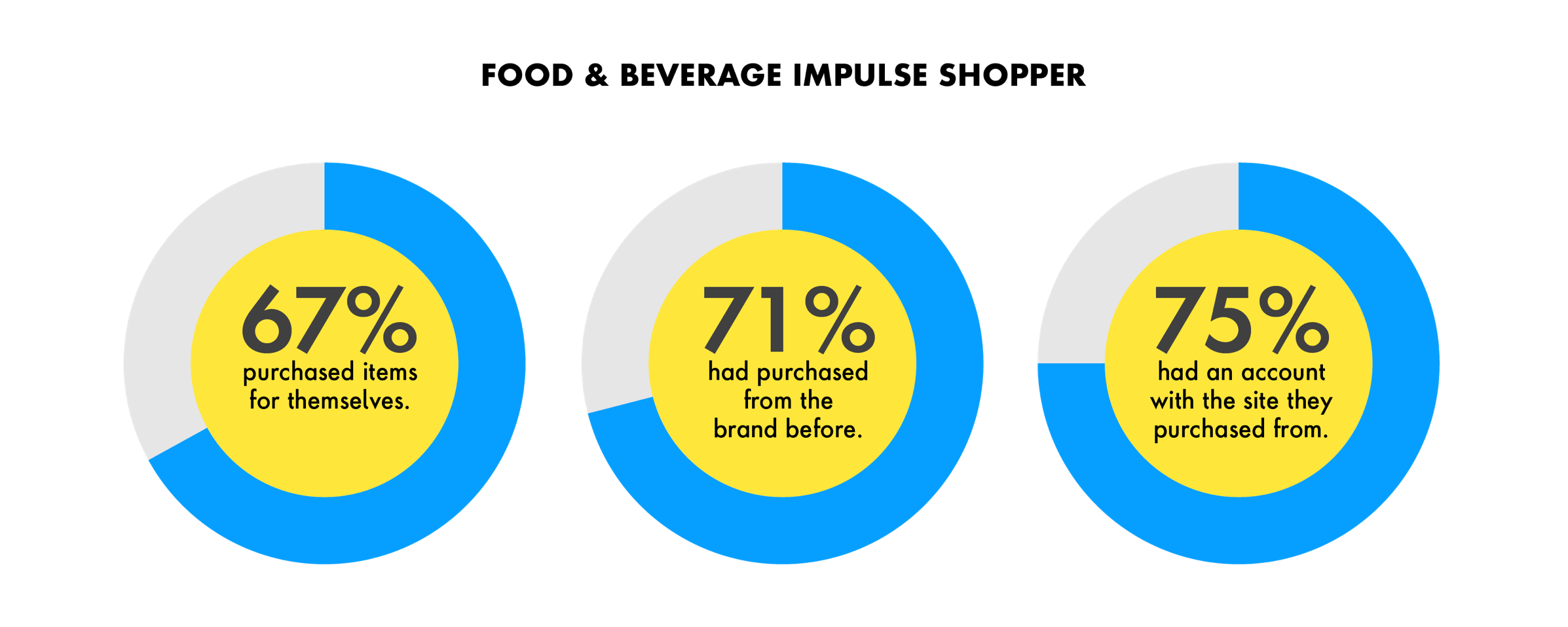 Impulse purchases are all about being in the moment. Our research finds that Millennial and Gen Z buyers are often inspired by channels they already use in everyday life.
Channels like social media and YouTube are a popular medium for consumers to interact with influencers, who often leverage their platforms to livestream product reviews, demonstrations (how-tos) or even just an occasional "shout out."

Food and beverage impulse buyers are hungry for quick and seamless delivery. When compared to other types of digital shoppers, food and beverage impulse buyers are more than twice as likely to order from grocery-specific retailers and food service delivery companies. The online marketplace is also a coveted channel, capturing close to one-third of all food and beverage impulse purchases.
Turning Impulse Buys into Lasting Brand Loyalty
Insights

Inside the Mind of the Next-Gen Beauty Shopper

Publicis Sapient research explores how Millennial and Gen Z shoppers prefer to buy online, with new opportunities for CPG brands to remain relevant through digital and social commerce experiences.

Read more

Consumer Products

Four Ways CP Firms Can Keep Up With the Ever-Changing Consumer

The Digital Life Index, Publicis Sapient's proprietary global research initiative, explored how the COVID-19 pandemic is affecting the way people view technology, their relationship with brands and how they plan to shop.

Read more

Insights

Social Commerce in the D2C Journey

Direct-to-consumer channels provide a path to differentiation outside of physical retail and third-party e-commerce partnerships.

Read more