Becoming a pet owner starts with a connection. You could call it "love at first pet;" that moment when you just know you have to take that little critter home and make them a part of your family.
Yes, family. And there are a lot of pet families. According to a 2019 study from the American Pet Products Association (APPA), roughly 85 million U.S. families own a pet. Millennials represent the largest pet-owning generation (35%), surpassing both Gen X (32%) and Baby Boomers (27%). They're also likely to view themselves not just as pet owners, but as pet "parents."
Google Trends for Term "Adopt a Dog"


The pet care industry is projected to be a $281 billion business by 2023. Take that along with an accelerated interest in pet adoption and fostering as more people find themselves at home, and you have a catalyst for a new generation of pet parents that are more digitally savvy and ready for new types of experiences.
For brands, opportunity lies in understanding how pet-owners' needs change over time and serving up the right products or services. This means tearing down silos that have traditionally separated these experiences and building a connected platform ecosystem – or simply, a one-stop-shop for all things pet care.
Connecting a Fragmented Pet Care Journey
Right now, pet owners often bounce between websites to find information. Pet brands have an opportunity to create a more connected experience.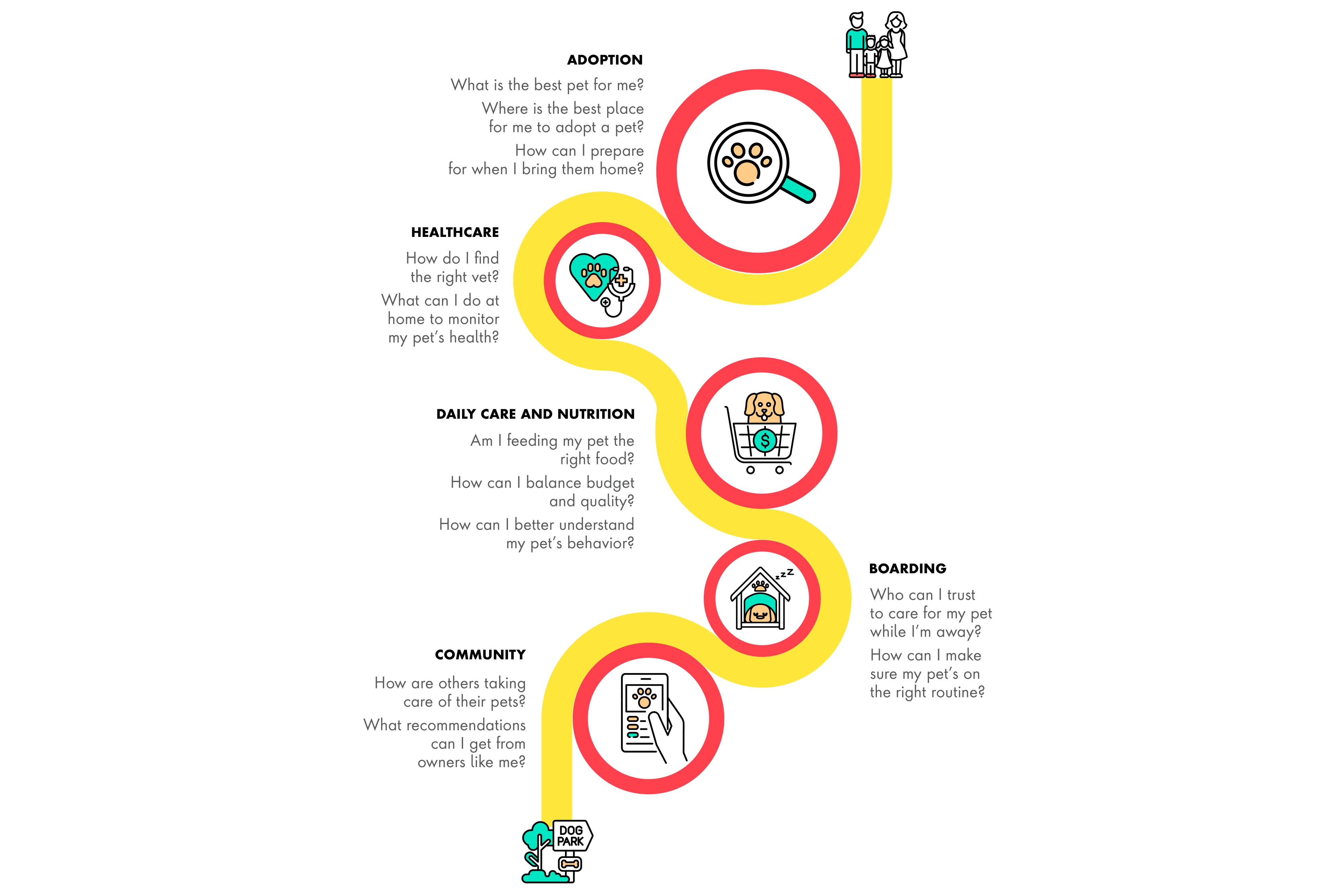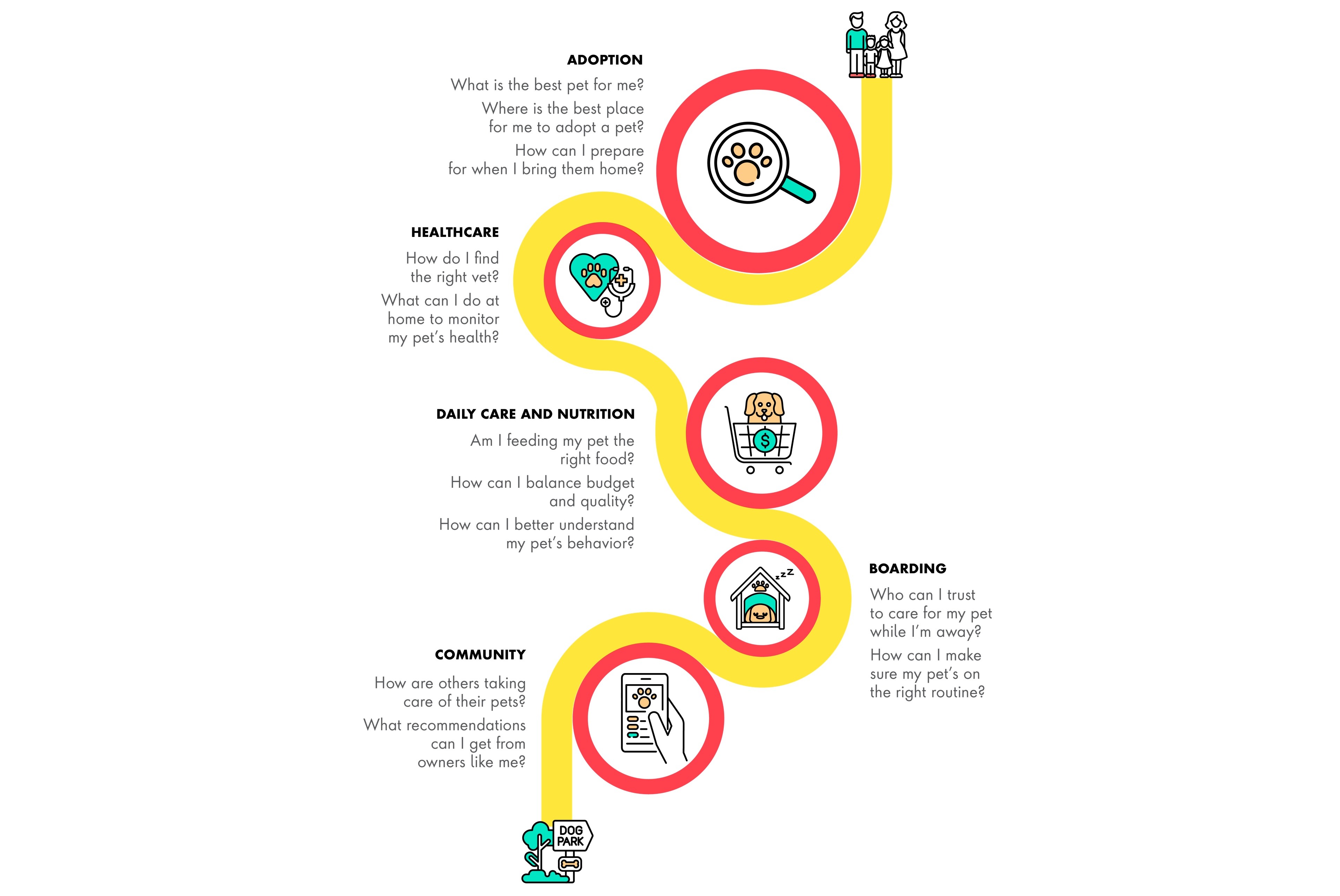 A D2C Platform Fit for Fido
Pet ownership is a unique and personal journey. The relationship people have with brands should be the same. Direct -to-consumer (D2C) models allows companies to get closer to shoppers using first party data, with tailored product recommendations and services across the entire customer journey. For shoppers, this makes discovery, learning and purchasing easier. For brands, it's a way to introduce new revenue streams and build experiences that customers value.
"Brands can support customers by going beyond product to becoming a trusted advisor for all aspects of pet ownership; from adoption resources, vet connections, nutrition, exercise, health and wellness across all phases of their pet's life," Kristen Groh, GVP, managing partner North America consumer products lead, Publicis Sapient, said.
Pet care is more than a trip to the store
New pet owners are filled with questions. But according to a study from Zulily, 63 percent of Millennial pet owners say big-box pet stores, grocery stores and mass retailers lack expertise when it comes to helping them choose the right pet products.
No one wants to wander aisles alone or search across hundreds of websites with conflicting information. What shoppers are looking for is real answers to help them feel confident in the decisions they're making. With so much to consider, it becomes a complex journey that starts with adoption and lasts a lifetime.
Take pet nutrition, for example. A person with a two-month old puppy has very different needs than someone with an elderly dog – and all the variables in between. Purina has recognized this and developed Just Right Pet Food, a subscription delivery service that allows customers to create custom dog food plans based on factors like age, breed, activity levels and dietary preferences. Once a blend is created, customers are given a detailed breakdown of what's in their food and why based on their dog's profile. Customers are also offered a suite of content that answers common questions about nutrition, grooming and training.
The pet care marketplace of the future?
But perhaps one of the bigger stories to hit the pet care industry this year is Petco, a pet care marketplace that raised more than $900 million when it went public for a second time in January. Like other marketplaces, Petco boasts a wide selection of products and services, ranging from pet supplies, to its own pet food line, a network of pet hotels, grooming and adoption events. As a marketplace, Petco also benefits from additional revenue streams from affiliate partners (aka, advertising.)
In 2019, Petco bolstered its own subscription savvy with the acquisition of PupBox, a subscription puppy wellness and toy service that first made headlines on Shark Tank. The company launched another subscription program – this time for pet healthcare coverage – in October 2020. 
As we've written about before, consumer products companies can leverage D2C models to maintain a competitive advantage and build this type of connected ecosystem. What will make leaders stand out, however, is the quality of the experience brands can deliver to their customers.
The Digital Petcare Journey
How can pet care brands make e-commerce experiences better?
Optimize channels and make shopping simple
E-commerce should be optimized across web, mobile and social experiences for easy navigation from any device or channel. Filtering and search functionality allows shoppers to easily narrow results and find what they're looking for, building off past preferences to curate targeted recommendations.
Keep customers informed
Clearly explain product information to reduce propensity of ordering the wrong product and returns. 
Curate offers at checkout
Offer recommendations on other products that may help customers meet free shipping thresholds or auto-replenishment services that could help them save.
Build loyalty through membership
Make memberships an exchange of value, offering loyalty perks or other benefits that customers want.
For larger pet brands, data can bridge the gap. By uniting customer data from across the business, brands can develop a more holistic understanding of their shoppers and their needs. For example, if a customer created a profile looking for the right food for their new pet, perhaps they'd also be interested in products to make their pet feel at home or local vets in their area.
In this way, pet care brand become more than just a place people go to shop. Instead, they become a trusted partner in a journey that lasts a lifetime -- and that can be a powerful thing.
How CPGs can ensure they develop the right strategy to capture the most value from their D2C investment.

It's time to transform to experience brands in today's era of Total Commerce

Direct-to-consumer channels provide a path to differentiation outside of physical retail and third-party e-commerce partnerships.