Lending Transformation
Publicis Sapient Loan Accelerator built on Collaboration Manager in the Microsoft Cloud for Financial Services

Achieve faster lending without the high costs of new systems
Loan Accelerator, developed by Publicis Sapient to run on Collaboration Manager in the Microsoft Cloud for Financial Services, is the most cost-effective and fastest route to digital lending. Loan Accelerator integrates with existing Microsoft technologies, including Teams, to transform lending from a disjointed, manual, and cumbersome process into seamless, streamlined,and convenient customer experiences.
The solution encompasses appointment scheduling, customer communications, task management, documentation, approvals, and team collaboration. Much of the process is automated, reducing effort, cutting the cost per loan, and eliminating the risk of human error. The result? Productivity is boosted by more than 15%, loan decisions are 30% faster, and NPS rises by 20 points or more.
Transforming the lending experience
for everyone
Facing intense competition from digital challengers, Loan Accelerator gives established lending organizations the means to focus on three critical areas of their business:
Improve collaboration: digital technologies remove the barriers created by organizational and data silos. Less effort is expended, customers enjoy a faster service and employees are more engaged.
Focus on customer experiences: keeping customers fully informed and radically accelerating the time to cash helps ensure happy borrowers who return with more business.
Increase efficiency: Sharing customer data and applying techniques like artificial intelligence enables faster decision-making and creates efficiency improvements across the lending process, boosting productivity.
It's time to transform your lending business
Let's make a start. Schedule a call with us to discuss your needs and hear more about how Publicis Sapient Loan Accelerator can transform your lending processes.
We would also like to invite you to a free initial working session to explore how we can help. We will tailor the agenda to your needs, but typically a session would include:
Establish your lending transformation goals
Loan Accelerator demonstration
Discuss a road map for accelerating transformation
Agree project stakeholders
Following the session, we would provide a complete, bespoke transformation road map for you.
Implement Loan Accelerator rapidly and with
confidence
With deep experience of the financial sector and established expertise in Microsoft Teams, Azure, Collaboration Manager and more, Publicis Sapient is a safe pair of hands for helping an organization transform its lending business.
Publicis Sapient has the insight to help define a lending vision, create the implementation strategy, and integrate all the systems, tools and processes needed to achieve digital transformation goals.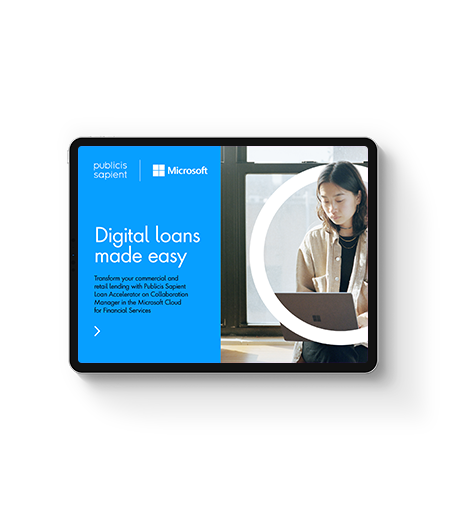 Digital Lending Infographic
Our infographic provides a quick and convenient guide to the facts and figures of digital lending and the gains that organizations can achieve by transforming outdated processes.