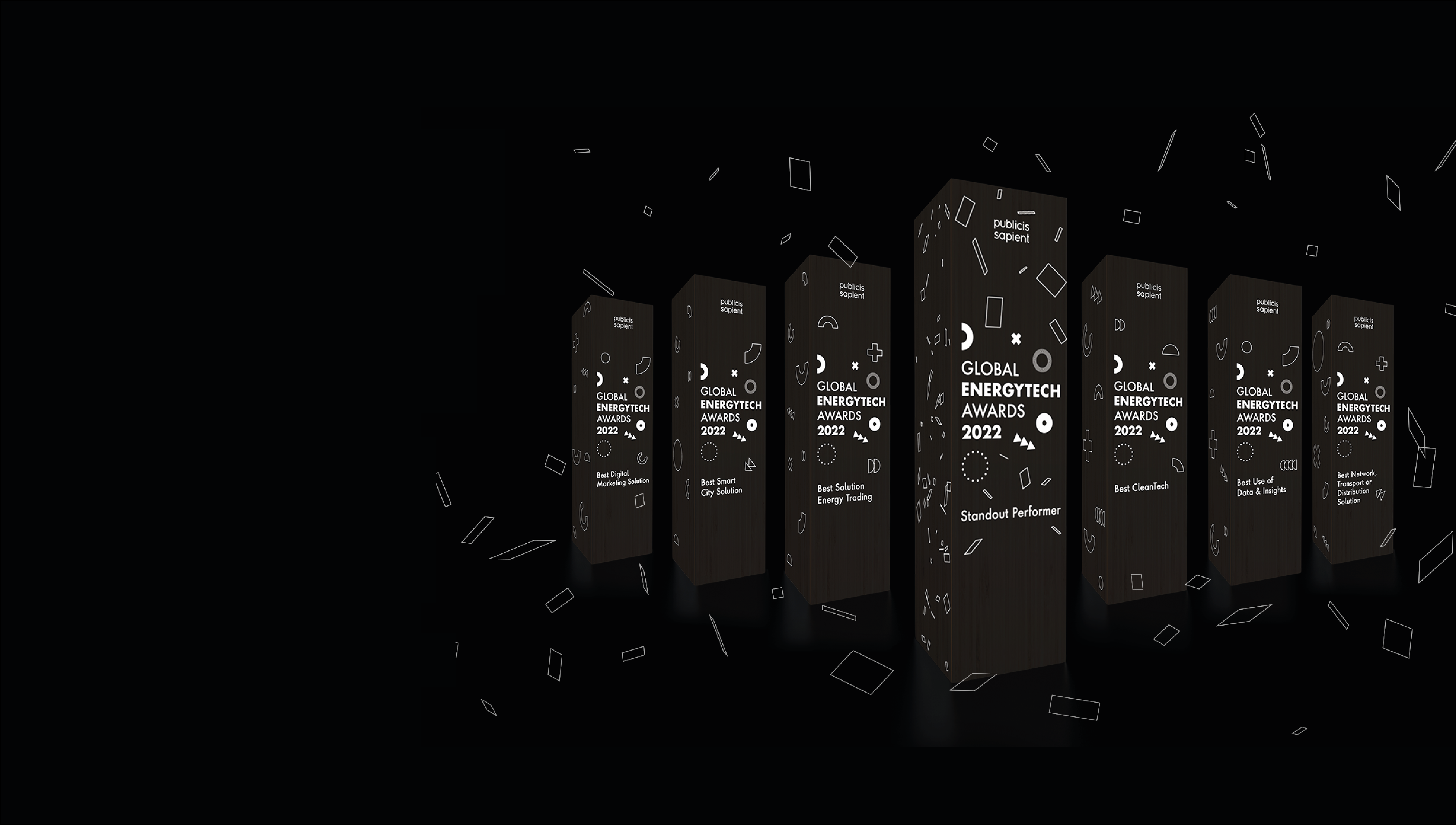 Press Release
Publicis Sapient Announces Winners Of Second Annual Global EnergyTech Awards 2022
Awards were launched on a low-carbon site to save energy
LONDON, ENGLAND and NEW YORK, NY, November 16, 2022 – Publicis Sapient, a digital business transformation company, today announced the winners of its second annual Global EnergyTech awards, a prestigious and first-of-its kind awards program focused on technology within the energy sector. The winners, who were recognized during a virtual ceremony, will receive awards for their efforts in energy innovation, across a variety of categories.
"For the second year in a row, we're thrilled to recognize disruptors in the energy industry as part of our Global EnergyTech Awards 2022," said Publicis Sapient CEO Nigel Vaz. "At a time when the energy industry is experiencing significant change, and the transition to a carbon-zero future is under way, energy companies will increasingly have to partner with innovators to scale up the skills and technology required to reach both their own and global net-zero goals. We're proud to bring the best ideas and talent together to help drive the shift to a cleaner, greener world."  
Publicis Sapient's Global EnergyTech Awards 2022 winners, from categories incorporating the whole lifecycle of the energy sector, are startups and innovators from around the globe that share a passion for digitally transforming the world of energy and are making a difference for the industry, its customers and the planet. The full list of winners is as follows: 
"The startups we've heard from are changing the energy landscape in an impactful and positive way, and with their solutions, they will make large contributions to organisations' carbon zero ambitions," said Joseph Tabita, Energy Leader, EMEA & APAC, Publicis Sapient. "We've seen some truly brilliant solutions from our applicants, whose bright ideas dig deep into the problems faced by energy companies, consumers and the environment, and offer clever solutions that can be adapted in most geographical settings. A huge congratulations to all the winners and impressive finalists."
Judges: Winners were carefully selected by a panel of industry experts, including senior leaders at major global energy organizations. Judges were Devrim Celal, CEO, KrakenFlex; Elvira Fabrizio, SVP, Digital & IT, Eni; Paul Massara, Associate, Creative Destruction Lab; Damian Bunyan, CIO, Uniper; Chris Foster, Chief Information and Innovation Officer, TC Energy; Jason Gislason, Chief Digital Officer, Chevron Phillips Chemical Company; Sandeep Parmar, General Manager, Digital Platforms & Operations, Suncor; Milind Godbole, Global Energy Lead, Publicis Sapient; Simon Harvey, GVP Energy & Commodities, EMEA, Publicis Sapient; Oded Lavie, VP Innovation & Business Development, Publicis Sapient and Joseph Tabita, Energy Leader, EMEA & APAC, Publicis Sapient.
The Prizes: The winners for each category receive:
A 1-to-1 advisory session with one of the judges
A workshop with digital business transformation company Publicis Sapient, with advice on scaling and accelerating product or solution
An editorial write-up in WIRED magazine
A showcase at VivaTech 2023, Europe's largest tech event 
Publicis Sapient's Global EnergyTech Awards 2022 were launched on a low-carbon site, globalenergytechawards.com. The awards page saves energy as it does not showcase photos, animation or video and features vector-based graphics, reduced copy, black background, anchor links, web-safe fonts and cleaner code.
About Publicis Sapient
Publicis Sapient is a digital transformation company. We partner with global organizations to help them create and sustain competitive advantage in a world that is increasingly digital. We operate through our expert SPEED capabilities: Strategy and Consulting, Product, Experience, Engineering and Data, which combined with our culture of curiosity and deep industry knowledge, enables us to deliver meaningful impact to our clients' businesses through reimagining the products and experiences their customers truly value. Our agile, data-driven approach equips our clients' businesses for change, making digital the core of how they think and what they do. Publicis Sapient is the digital business transformation hub of Publicis Groupe with 20,000 people and over 50 offices worldwide. For more information, visit publicissapient.com.