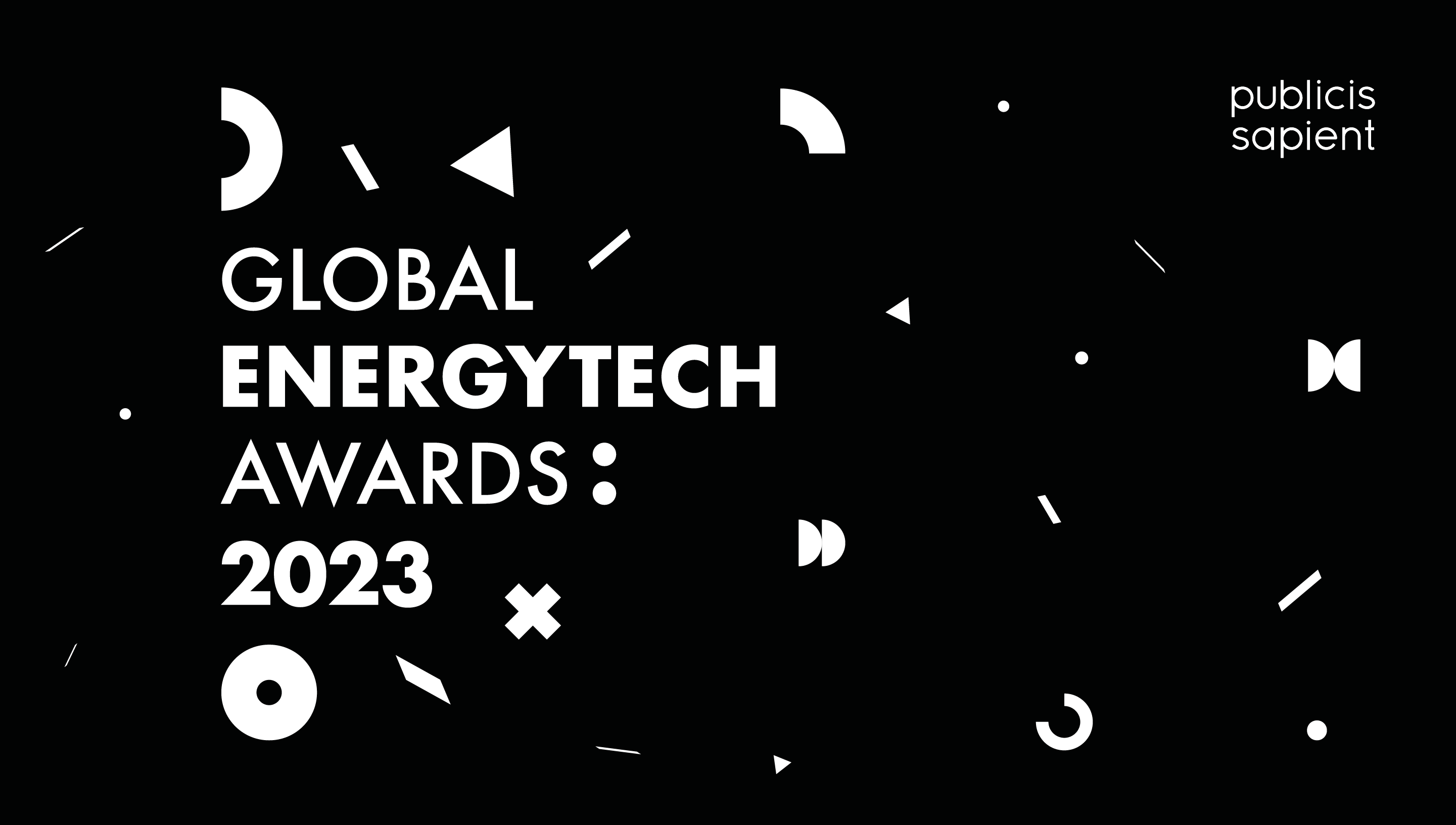 Publicis Sapient Announces Winners of 2023 Global EnergyTech Awards
Winners are startups and innovators within the energy sector from around the globe that share a passion for digitally transforming the world of energy and are making a difference for the industry, its customers and the planet
 
LONDON, ENGLAND and NEW YORK, NY, November 1, 2023 – Publicis Sapient, a digital business transformation company, today announced the winners of its third Global EnergyTech awards, a prestigious and first-of-its kind awards program focused on technology startups and innovators within the energy sector across the globe. This year, global representation increased, reflecting the evolving landscape of energy innovation.
"For the third consecutive year, we're excited to highlight innovators in the energy sector through our 2023 Global EnergyTech Awards," said Publicis Sapient CEO Nigel Vaz. "At a time when the energy landscape is rapidly evolving, and as we progress towards a carbon-neutral vision, collaboration with pioneering minds becomes paramount for energy firms aiming to gain the skills and create the tech solutions needed to achieve their own and global sustainability targets. We take great pride in identifying leading ideas and expertise that can help propel our journey towards a more sustainable and eco-friendly future."
The full list of winners is as follows:
●      Best CleanTech Solution for Utilities:  Allye Energy (UK): Allye provides distributed energy storage at the grid edge to provide collective flexibility to the electricity network, helping accelerate decarbonisation of the grid while lowering energy costs for industrial, commercial and residential customers by up to 50%.
●      Best Customer Experience Solution: Precision AI (US):  Precision AI is on a mission to accelerate artificial intelligence-based farming practices to create healthier, happier and more profitable farms. By leveraging advanced drones and custom-built AI technology, they can take crop production decisions from a whole field to an individual plant level. The outcome of their solutions is integrated into the agricultural technology of today and helps craft the machines of tomorrow that will feed the world.
●      Best CleanTech Solution for Energy and Best Stand Out Performer: water stuff & sun (DE): water stuff & sun is a hydrogen technology startup based near Munich that is developing an entirely new storage technology for renewable energies: the hydrogen battery, a two-in-one storage solution that combines the safe and simple distribution of renewables with their integration into various applications.
●      Best Commercial Sustainability Solution: HSL Technologies (FR): HSL Technologies provides innovative hydrogen transport and storage solutions for a carbon-free future. It believes that hydrogen is a clean and sustainable alternative to fossil fuels and is committed to developing technologies that enable its widespread use.
●      Best CleanTech Solution for Agriculture: innerPlant (US): InnerPlant gives plants a voice via technology that enables crops to communicate what they need.  Its crops signal optically if they need more Nitrogen or are attacked by pathogens or insects. InnerPlant's easy-to-collect signals can be picked up from field equipment and all the way up to satellites in space.
●      Best Supply and Trading Solution: Previse Systems (CA): Previse Systems reshapes the way Energy Trading and Risk Management (ETRM) software is designed, implemented and operated.  It offers a highly performant SaaS solution for European electricity, natural gas and certificates trading – combining modern software architecture with the latest available tools and technology.
Publicis Sapient is also proud to introduce the Community Impact recipients, organizations that have shown a significant impact in their local communities. The full list of recipients is as follows:
●      The Renewable Solutions (Ethiopia)
●      Govadhan Ecovillage (India)
●      ProGreen Innovation (Kenya)
●      WASTE Bangladesh (Bangladesh)
●      ENVenture (Uganda)
"The global energy landscape is facing new challenges triggered by a mounting strain on the grid, evolving consumer preferences and the pressure to turn towards renewables," said Joseph Tabita, Energy Leader, EMEA & APAC, Publicis Sapient. "This year, we received entries from energy startups worldwide with cutting-edge solutions that address these challenges in their sub-sectors, ranging from grid-edge distributed energy storage and custom AI for precision agriculture to groundbreaking hydrogen battery technology and crop communication technology.  The EnergyTech community did not disappoint."
Judges:  Winners were carefully selected by a panel of industry experts, including senior leaders at major global energy organizations. Judges were Damian Bunyan, CIO, Uniper; Francesco Romeo, Head of Digital and IT for Gas, LNG and Renewables, ENI; Joe Tabita, Energy Leader, EMEA & APAC, Publicis Sapient; Sandeep Parmar, General Manager, Digital Platforms and Operations, Suncor; Devrim Celal, CEO, KrakenFlex; Jason Gidlason, Chief Digital Office, Chevron Phillips Chemical Company; and Milin Godbole, Global Energy Lead, Publicis Sapient.
The Prizes: The winners for each category receive:
●      A 1-to-1 advisory session with one of the judges
●      A workshop with digital business transformation company Publicis Sapient, with advice on scaling and accelerating product or solution
●      Paid media coverage by Publicis Sapient for addition reach
●      A showcase at VivaTech 2024, Europe's largest tech event
Publicis Sapient's 2023 Global EnergyTech Awards were launched on a low-carbon site, globalenergytechawards.com. The awards page saves energy as it does not showcase photos, animation or video and features vector-based graphics, reduced copy, black background, anchor links, web-safe fonts and cleaner code.
About Publicis Sapient
Publicis Sapient is a digital transformation company. We partner with global organizations to help them create and sustain competitive advantage in a world that is increasingly digital. We operate through our expert SPEED capabilities: Strategy and Consulting, Product, Experience, Engineering and Data, which combined with our culture of curiosity and deep industry knowledge, enables us to deliver meaningful impact to our clients' businesses through reimagining the products and experiences their customers truly value. Our agile, data-driven approach equips our clients' businesses for change, making digital the core of how they think and what they do. Publicis Sapient is the digital business transformation hub of Publicis Groupe with 20,000 people and over 50 offices worldwide. For more information, visit publicissapient.com.